I'm back home after a week in Egypt working on a handover of one of our flour mills. I was back at the place I started my overseas career in 1984; a city called Damanhour which is around an hour's drive from Alexandria.
A plant handover in places like Egypt consists of running the mill for 24 hours to demonstrate it performs as sold. It doesn't sound a long time but it is as you have to be on the go all the time.
This is the third time we've done a handover at this mill. In 1984 it was a 200 tonnes per day mill. In 2000 we uprated the mill to 350 tonnes and this year we've just uprated it to 600; all in the same building.
Staying awake in the hours before dawn are difficult so, for something to do, I went and took this (not so good) photo of the mill from the outside. I'm sure I've got a much better one from '84 with a great Pentax camera I had back then.
I can tell you that, as the sun came up on a Damanhour mill test for the third time in my career, I began to wonder if I've gone wrong somewhere.
I'm back home now after a stopover in Amsterdam due to a late departure from Cairo. Louis barked at me as I put my key in the door. Who could blame him; after all I was disturbing both him & Sue during one of their prime snooze time sessions (7am ~ 10am and 3pm ~ 5pm). Once he knew it was me I got a good greeting and he was whimpering with delight (or more likely mourning the loss of a sofa).
On the way from/to the airport we passed by Tahrir Square; here's a piccie of the police building by the museum. Looks a bit of a burnt out mess.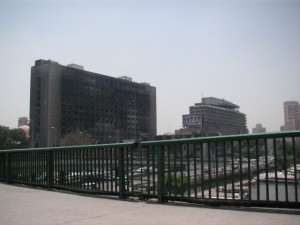 The building to the right was the Nile Hilton. I spent many a Friday afternoon in the dark, leather sofa Safari Bar enjoying a Stella beer, or two, or three.