The work in the kitchen continues and we're getting closer to the end of the project.
Louis has been a constant "help" throughout the exercise.
His forté is with the unpacking of all the elements of the kitchen (and there must have been a coupla hundred packages for even our small kitchen) so I took a picture of him in action.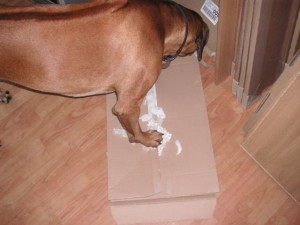 He does this with all the packaging. He only gets involved after the event as he is usually slobbing on the sofa surfing the tv channels but you know he's decided to help when you hear the scrabbling sounds of his paws.