We've had even more snow over the last few days. Getting to and from work has been interesting – a nightmare to be honest.
The upside is that we've had some fun at home in the snow. Last night we got the chimenea fired up and some mulled wine on the go. Louis likes the snow – I think he's more a Siberian Ridgeback than a Rhodesian one.
Here's a pic of the chimney and nature's beer cooler…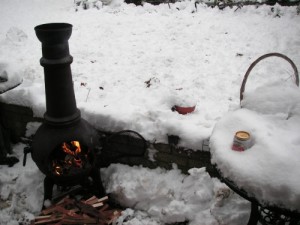 Here's Louis enjoying some ice as he gets close to my beer…
Pete & Josie next door were busy…
We got some good videos of Louis playing in the garden so we'll get them on the video page over the next couple of days.