Ma and Pa organised a meal to celebrate Dad's 76th birthday so we took over half of The Chuch Inn in Cheadle Hulme for a few hours.
There were four generations there; from Ma and Pa through to my sister's daughter's two kids, Paige and Riley. Here's a pic of my niece Emma and Paige. I remember getting told off by the maternity matron at Stepping Hill for putting my coat on Carole's bed just after Emma was born; how time flies.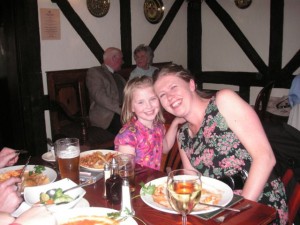 It's the best part of 25 years since Sue and I used to frequent The Church Inn when we were youngsters. Back then the haute cuisine consisted of cheese and ham toasties and crisps. Last night was smoked mackerel followed by a sweet chilli chicken dish and a cheesecake pud! I fancied a cheese and ham toastie to round the meal off.