I'm slowly getting on with the work in the bathroom. The walls are plastered and the partition around the soil stack has been taken down and rebuilt about 25mm further back so the bath can fit snugly.
Today the old faithful throne and basin came out and I fitted the thermostatic shower valve and plumbed it in. I tested it and it seems to work. The piping is not pretty but, for the most, it's straight and stress free; see the piccie below.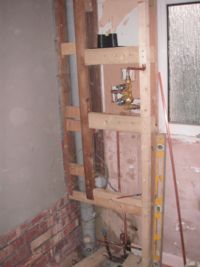 Tomorrow I'll hopefully get the plasterboard up and the other walls ready for tiling. Who knows, might even get a few tiles on the wall!